Chicago
A UE delegation joined guests from Italy and hundreds of immigrant rights activists for May Day in Chicago this year. UE hosted representatives of Federazioni Impiegati Operai Metallurgici (Federation of Metalworkers, FIOM-CGIL) to commemorate International Workers' Day with a new plaque on the Haymarket Square monument.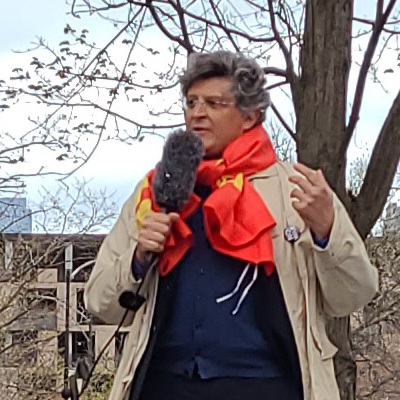 The day's festivities kicked off in Union Park, where Marcello Scipioni, Head of FIOM's International Department and Head of the Health, Environment and Safety Office, addressed the rally. He noted that the immigration struggles in the US mirrored challenges for immigrants in Italy, and that in both places, it's important to struggle for immigrants' rights to work to be recognized so that they are not exploited and can be reunited with their families. "Millions of workers came here from Europe and all over the world to win the bread, and they found themselves fighting for the roses too, and gaining dignity," he said. "To me it's very important to be here on May Day in Chicago because the symbol of May 1st is an international struggle for workers to have equal rights." Scipioni was joined on the trip by Daniele Calosi, General Secretary of FIOM-CGIL Florence, and his wife Alida Magherini.
The UE delegation was led by General President Carl Rosen, and included retired Secretary-Treasurer Amy Newell, retired International Representative Terry Davis, International Representative J Burger, Field Organizer Sean Fulkerson, Director of International Strategies Kari Thompson, and Emergency Workplace Organizing Committee Organizer Tristan Brock-Hughes. The UE and FIOM delegations marched from the park to the monument at Haymarket Square, where they met leaders of the Illinois Labor History Society and other trade unionists who were there to honor the memory of those who died calling for an eight hour day for all workers. While there, the group met Congressman Jesus Chuy Garcia, who has been a strong UE ally in congress.
Later that afternoon, Rosen and Thompson brought the FIOM delegation to a birthday party for Mother Jones at the Irish American Cultural Center, where they heard beautiful music from local musicians and rousing remarks from Sara Nelson, President of the Association of Flight Attendants-CWA. (Nelson addressed UE's most recent convention by video message.)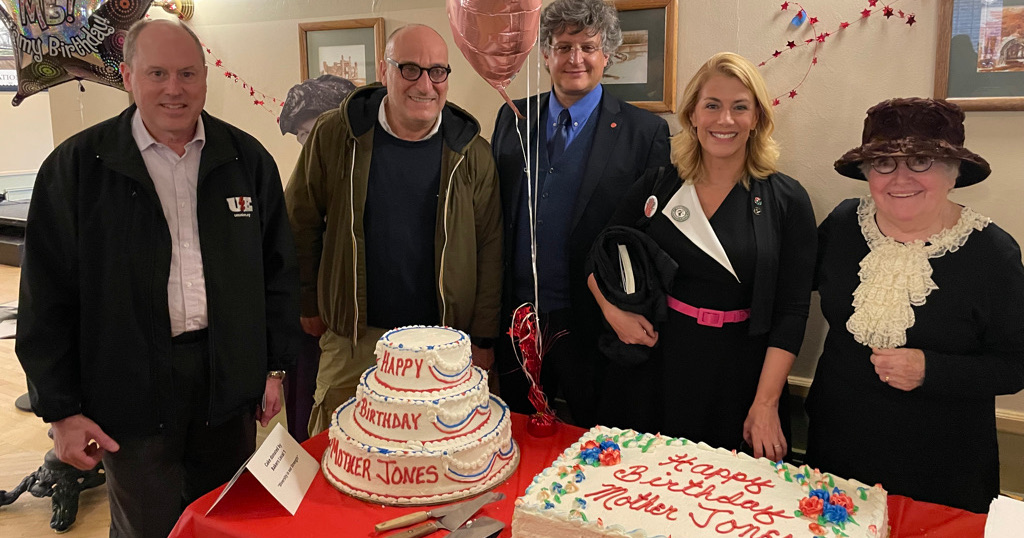 On Monday, the Italian trade unionists met Rosen at UE Hall in Chicago for a tour of the mural by John Pitman Weber and Jose Guerrero. Thereafter they had a discussion with Rosen and Director of Organization Mark Meinster about the challenges and opportunities in the US and Italian labor movements. In the afternoon, Scipioni and Calosi saw more of Chicago's labor history on a tour around the city, including stops at the Haymarket Martyrs monument in Forest Park Cemetery, and the recently restored mural "The History of the Packinghouse Worker" by William Walker.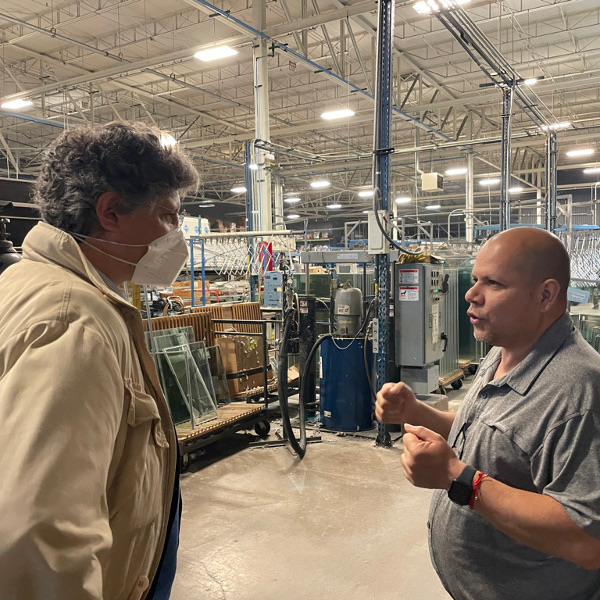 On Tuesday, Scipioni joined Thompson for a tour of New Era Windows with Armando Robles, president of Local 1110. The plant is a worker-owned cooperative that emerged from the 2008 occupation of Republic Windows and Doors. Scipioni expressed his admiration for the operation, and suggested that perhaps there could be a future exchange with similar worker efforts in Italy.
At the conclusion of his remarks to the May Day rally, Scipioni noted that "We must struggle together" for a world in which workers do not compete against each other. "Happy May Day to you. Let's struggle together."