UE joins Kilusang Mayo Uno, the independent and democratic labor center in the Philippines, in condemning the murder of KMU National Council member Dandy Miguel and the illegal arrest of KMU National Council member Florentino "Pol" Viuya.
Miguel, the vice chairperson of regional chapter PAMANTIK-KMU and president of local union Lakas ng Nagkakaisang Manggagawa ng Fuji Electric – OLALIA- KMU, was shot dead in Laguna province last Sunday night, March 28. According to initial reports, he was shot eight times while on his way home from work. Miguel's killing came three weeks after nine activists were killed in simultaneous dawn operations called Bloody Sunday in the Southern Tagalog region south of Manila, where Laguna is located.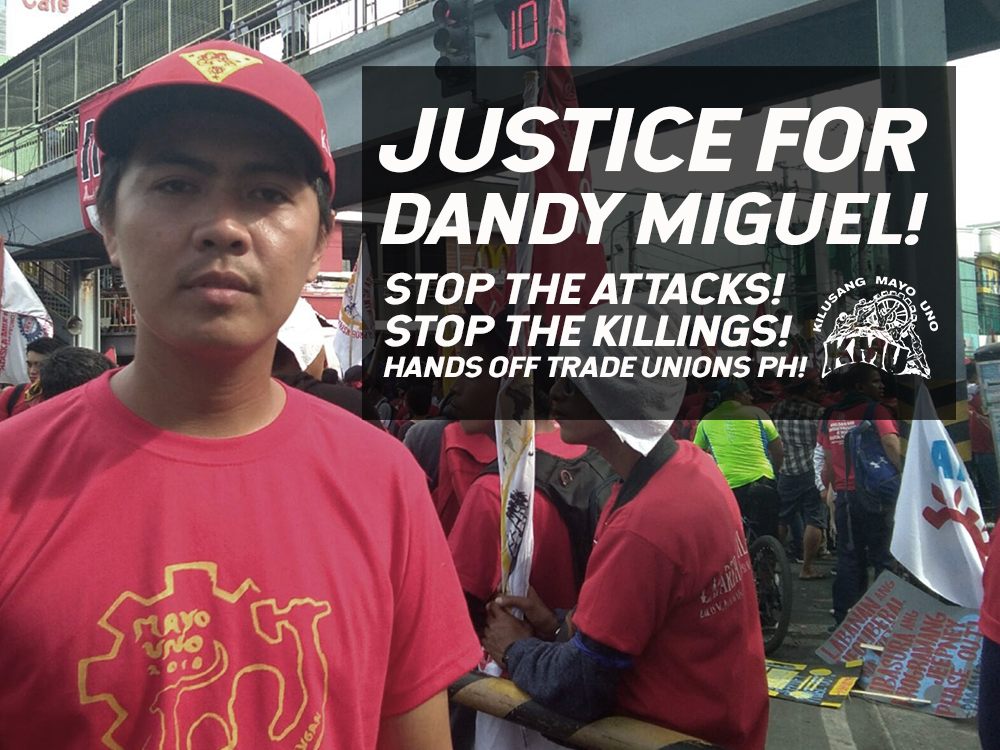 Along with other union leaders and families of the Bloody Sunday victims, Miguel filed a case at the Commission on Human Rights last March 15. Despite threats on his life and security, Miguel was at the forefront of the struggle to defend the rights and welfare of the people.
Viuya, who has been consistently red-baited by the Philippine government, was arrested under a fake warrant of arrest in a raid on the morning of March 30. Peasant leader Joseph Canlas was also arrested in a simultaneous raid in the vicinity the his organization's office in Pampanga.
Viuya is also chairperson of the regional labor center Workers Alliance, and has been involved in the campaigns against the Joint Industrial Peace Concerns Office (JIPCO), a collaboration between the Philippine National Police and the Philippine Export Zones Authority that targets "radical unions" to ensure "industrial peace" and "ease of doing business."
To date, Miguel and Viuya are the second and third KMU national council members to be attacked by the Philippine government, after the illegal arrest of Noly Rosales of KMU Negros in 2019.
UE calls on the Philippine government to stop the series of intimidation, harassment, illegal arrests, and killings of union leaders, labor organizers, activists, and human rights defenders.