The commitment to international solidarity that is a core UE value was on display at UE's 76th Convention, held in Pittsburgh in August. Guests from Canada, Mexico, Italy and Japan joined UE members to celebrate victories, share experiences and reaffirm solidarity.
UE Director of International Strategies Kari Thompson, in her report to the convention, noted that "one of the best displays we've had of what international solidarity really looks like in practice" was when UE allies from around the globe took action to support Locals 506 and 618 in their contract struggle and nine-day strike against Wabtec last winter.
Turning to the renegotiation of the North American Free Trade Agreement between the U.S., Canada and Mexico, Thompson reported that the work UE members and others had done in 2017, signing and collecting postcards opposing the "investor-state dispute settlement" provisions of NAFTA, was successful in "scaling back the extent to which that dispute settlement" mechanism was included in the renegotiated deal.
More importantly, working people in Mexico had successfully elected a new, pro-worker president last year, Andrés Manuel López Obrador, commonly known by his initials AMLO. This spring, Mexico passed a package of labor law reforms that promise to improve the low wages and poor working conditions that hurt Mexican workers and are the main reason corporations move jobs to Mexico. "In many ways, the labor law reforms that were just passed in Mexico are a gold standard," Thompson said, and suggested that a renegotiation of NAFTA to raise, instead of lower, labor standards in all three countries is the kind of trade that would actually benefit working people.
Thompson also touched on a number of important struggles that UE allies and other workers around the world are engaged in. The militant union federation Kilusang Mayo Uno in the Philippines went on strike earlier in August to protest precarious work conditions. "Those are the kinds of fights that we're going to have to wage in order to get the kind of labor law that we really need to see in all of our countries," Thompson said. She also described how Brazilian unions are fighting back against far-right President Jair Bolsonaro's attacks on workers, which include lowering the minimum wage, abolishing the Ministry of Labor, and a threat to privatize the country's social security system.
In Belfast, Northern Ireland, Thompson reported, workers the Harland and Wolff shipyard struck and then occupied their soon-to-be-shuttered workplace, demanding that the yard be kept open to produce equipment for the Green New Deal. (The Harland and Wolff workers were ultimately successful in saving their jobs, as the yard was reopened in early October after a buyer was found.)
"In every language, solidarity is the most beautiful word"
Following Thompson's report, a panel of international allies from Mexico, Quebec, Italy and Japan addressed the convention.
Eladio Abundiz Guadian of the Mexican independent union and long-time UE ally the FAT spoke about how the new labor law has given Mexican workers hope, but that the labor laws, as good as they are, require awareness and enforcement. "We at the FAT are fighting to make the workers aware of these laws," he said.
"Alliances and international solidarity are more important than ever for our organizations," Guadian continued. "The UE and the FAT are some of the few organizations who fight not only for our members but for other workers that do not have stable jobs … which helps them feel that solidarity can be a universal principle."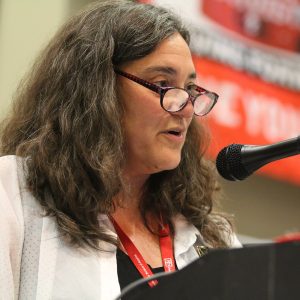 Dominique Daigneault, president of the Montreal Metropolitan Council of the Quebec union CSN, emphasized that her union, like UE, fights for "our members' rights as workers but also as citizens, because workers are also citizens who need to eat, use transportation, [and] have a roof over our head — so we also fight for social, cultural, economic and environmental policies that benefit the entire population."
She described how CSN members organized a "super solidarity network" of workers from different sectors to successfully defend the working conditions of their members who work at a hotel where the boss tried to break the union, and their plans to act in solidarity with students joining the global climate strike in September. Daigneault ended her remarks with the observation that "in every language, solidarity is the most beautiful word in the world, because it is a mix of love, power, tenderness and fighting."
Thompson next introduced Daniele Calosi of the Italian metalworkers' union FIOM, which represents GE workers and has built strong ties with the UE over the past four years. "They were invaluable partners this year in providing solidarity during Wabtec's takeover of GE jobs in Erie," said Thompson.
Calosi noted that the costs of the "fascist, racist and anti-environmental policies" carried on by the governments of both Italy and the U.S. "are paid by workers, women and immigrants" in both countries.
"Workers' struggles are the same around the world," he said. "We have to strengthen our relationship because … capital is global and is able to change its nationality without any limits, destroying our rights. To fight back … we need to become global, too."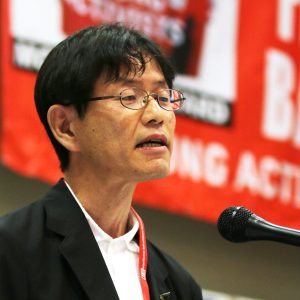 Takeshi Takeshita of the militant Japanese union federation Zenroren hailed the "thirty years of friendship and international solidarity" between UE and Zenroren. He reported on Zenroren's recent progress towards establishing a national unified minimum wage system and a minimum wage of 1500 yen (approximately equivalent to $15).
His union is also fighting against the Japanese ruling party's attempts to change the constitution to make it more militaristic, and to exempt white-collar workers from recent labor reforms designed to address the phenomenon known as "death from overwork" — fatal strokes and heart attacks from long hours and stress at work.
Takeshita also spoke of the "current nuclear danger facing humankind" and Zenroren's campaign to promote the Treaty on the Prohibition of Nuclear Weapons. Zenroren members will travel to the U.S. next spring, he said, to presentation petitions for the elimination of nuclear weapons to the U.N., and he invited UE members to join in the Hibakusha Appeal which is collecting the signatures. ("Hibakusha" is the Japanese term for survivors of the atomic bomb attacks on Hiroshima and Nagasaki in 1945.)
"Our two organizations are fighting to turn back these anti-worker policies and build a society based on respect for working people who are the brain and the muscle of our economies, and deserve to be the economy's chief beneficiaries," concluded Takeshita. "We look forward to exploring ways in which we will continue to work together to defend the rights and interests of all workers and a nuclear-free world."
"A way of understanding history"
When the floor was opened to discuss the "International Solidarity" resolution, Sarah Vukelich, Local 150, reported that the Young Activists had discussed the importance of internationalism during their pre-convention program. Internationalism is "a way of understanding history," said Vukelich. "For my entire life, the U.S. has been at war, basically to control trade and resources."

Scott Slawson, Local 506, suggested an amendment to the resolution to include the global union federation IndustriALL, which he pointed out had played an important role in organizing global solidarity for his local's struggle with Wabtec. Elizabeth Jesdale, Local 255, thanked the international guests and made a point of acknowledging the translators whose labor is crucial to building solidarity across borders.
Sekia Royall, Local 150 and Matt Braddon, Local 222, also spoke on the resolution.
The International Report was not the only opportunity for convention delegates to build international solidarity. On Tuesday afternoon, the FAT, CSN, FIOM and Zenroren representatives led a well-attended workshop. A common thread of the presentations was how unions are responding to the increase in migration being driven by economic and environmental destruction in many parts of the world.
UE's international guests also shared their solidarity in the streets, joining Monday's Medicare for All rally. Dominique Daigneault spoke about how Canadian workers won universal healthcare in the 1960s: "Like a lot of progress in politics, the people had to fight for that and the labor unions were at the forefront of the struggle as you are today." FAT Co-Coordinator Rosalba Calva Flores told the rally, "From Mexico we stand in solidarity with you in this important fight for healthcare."
UE members also connected more informally with workers from around the world at a reception for international guests on Sunday night, on Monday night's boat ride, and in between sessions.